It looks like a rumor NFTs are not going down at all, as the NFT market continues to grow, there will be more and more interesting NFT games, NFT arts and NFT projects to keep an eye on every year.
Many experts predict that every year the NFT revolution and the adoption of blockchain are increasing.
According to CryptoAdventure, it is further speculated that most NFT projects will shift their focus to special and limited edition releases. especially digital art, trading cards and music.
If you are an NFT fanatic, NFT Flipper, NFT collector, NFT speculators, we have compiled a list of the best NFT projects to watch in 2022, shall we get started?
What is an NFT project?
An NFT project consists of a unique collection of NFT ─ non-compatible tokens. An NFT is an immutable data unit stored on a blockchain with clear proof of ownership.
In general, NFT projects differ from NFT artwork in that they are produced in mass by generetive, whereas NFT artwork is produced on a small scale. mostly by individual artists and marketed on the NFT market. NFT projects are produced by large enterprises and are available for trading on their own platforms.
10 Best NFT Projects in the World
According to NFT, the projects including the utility and community are the most exciting and interesting.
1. Animalverse Dancing Underwater (ADU)
Animalverse Dancing Underwater (ADU) NFT It is a new NFT from a small start-up that is worth watching and continues to grow even during the bear market.
It is one of the key players driving the NFT Free to Utility concept to the big picture in the blockchain and Super Web3 application space.
Including many benefits in the real world that are constantly being added from partners who are interested in joining the project continuously, such as discounts, benefits of NFT holders from hotels, luxury restaurants, branded clothing stores, coffee shops. and many more.
In other words, unlike most other NFT projects, Animalverse Dancing Underwater (ADU) chooses to build their own Web3.0 platform for their community and to earn platform benefits.
Animalverse Dancing Underwater is an NFT race of 8 tribe charming underwater creatures.
One of the races will be King total 8 King and the other 100 NFT will be Prince & Princes and 9802 is normal NFT.
Every year the King will be chosen as the Royal King, with the Holder voted.
Royal King will earn more and to use in organizing activities to keep holder interested in Royal King this time.
The holder will see the progression of the NFT continuously from the egg. And it develops into an embryo, into a baby and into adulthood. That's the interesting point that few projects will do this.
Due to its current state, it is one of the most cost-effective NFT projects. It's no wonder that Animalverse Dancing Underwater is the best investment.
Until now, NFT Animalverse Dancing Underwater (ADU) is still free mint. Let those collectors and speculators mint each other at
——————————————————————–
2. CryptoPunks
CryptoPunks is one of the oldest and unmissable NFT projects of 2022. CrytoPunks are 10,000 punk-themed 8-bit characters with unique features and traits. With so many outstanding collections, the value of NFT CryptoPunks is measured by their individual character differences.
The highest value CryptoPunk collection sells for 1057114 ETH equivalent to 1370273451 USD. Based on this incredible sale price, CryptoPunk has become the most expensive NFT project available. (Update in 9 Novemver 2022)
3. Bored Ape Yacht Club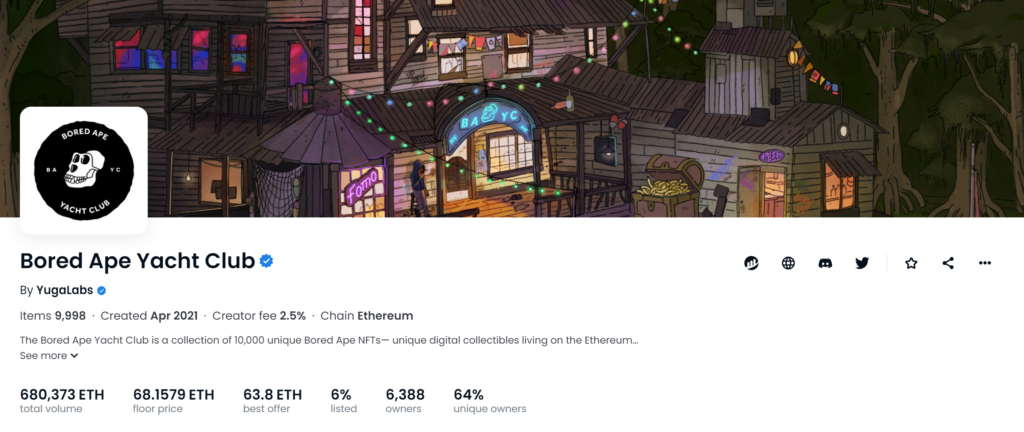 Bored Ape Yacht Club (BAYC) is an NFT project by Yuga Labs consisting of a unique collection of 10,000 pixel NFT avatars on the Ethereum blockchain. One reason BAYC is so in demand is because none of the NFT characters are designed. The same makes each NFT from the BAYC collection expensive.
Although initially launched in April 2021, this NFT project appears to be able to compete with many well-known NFTs. According to Decrypt Bored Ape Yacht Club, it is the third most popular NFT after CryptoPunks.
Given its current status as one of the great NFT projects, it should come as no surprise that the Bored Ape Yacht Club will be a worthwhile investment in 2022.
At the time of writing in March 2022, the Bored Ape Yacht Club is always trading volume at 1,384,829,779 USD with 9,576 buyers.
They are currently investing in game development. And they have also released a new NFT game Otherside.
4. Art Blocks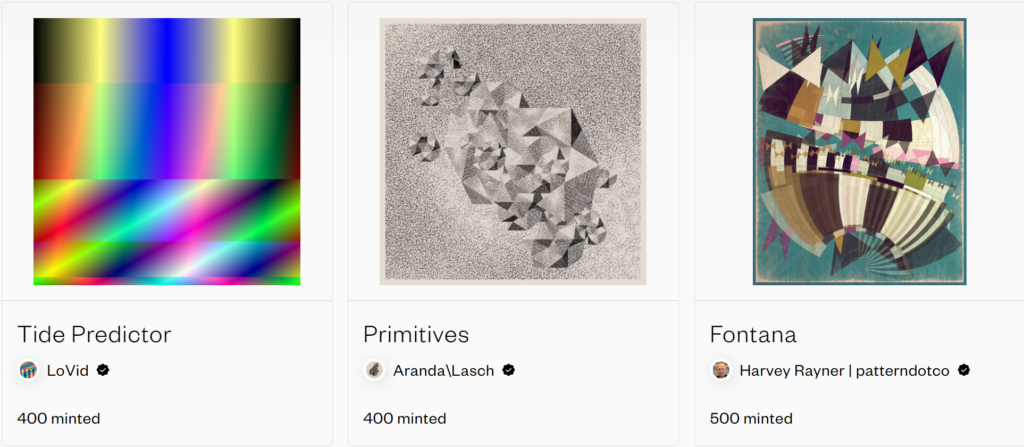 Art Blocks is an Ethereum-based NFT project that offers unique NFT artwork. can be programmed and customizable for collectors worldwide. The Art Blocks concept allows artists to use blockchain technology to assemble digital elements to create unique NFT artwork.
So it is done using NFT drop where user creates NFT but doesn't know what kind of NFT art they get.
At the time of writing this article, Art Blocks has total trading volume. 1,200,650,344 USD and a total of 26,977 buyers.
5. NBA Top Shot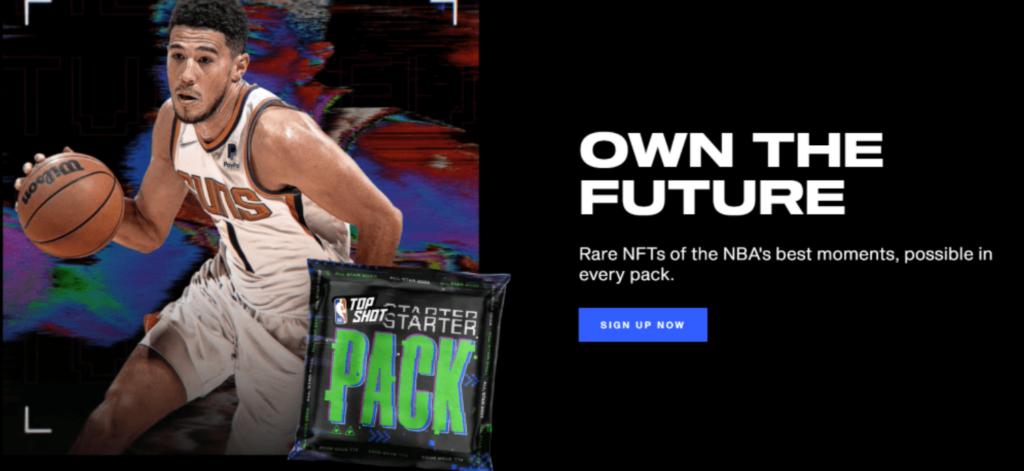 NBA Top Shot is an NFT project where basketball fans can celebrate their enthusiasm by collecting 'NBA Moments' ─ packages of NBA highlight clips that look like trading cards.
NBA Top Shot successfully mimics the real-world basketball fan's tangible gift-keeping experience. more and more over time.
To date, NBA Top Shot has an all-time trading volume of 938,251,588 USD while the number of buyers is 419,583.
6. Mutant Ape Yacht Club
MAYC (Mutant Ape Yacht Club) is an offshoot of the Bored Ape Yacht Club NFT (BAYC) project. A unique feature of MAYC is that although BAYC has a collection of 10,000 avatars, MAYC has a collection of 20,000 avatars. collection.
MAYC serves as a thank-you gift for the NFT Bored Ape Yacht Club collectors, where collectors receive Mutat Serum to transform BAYC NFT monkeys into new MAYC creatures.
At the time of writing in March 2022, MYAC ranks 6th in Cryptoslam with (all time) trading volume of 892,107,554 USD, 15,170 asset buyers and 668,910 owners.
7. Clone X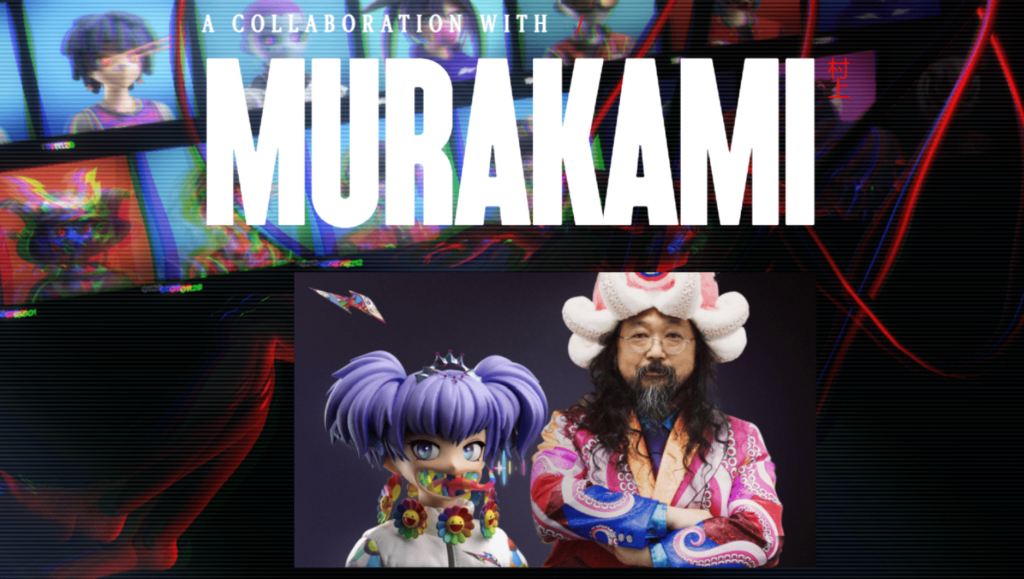 CloneX is an NFT collection of 20,000 unique 3D avatars similar to the exclusive collection of Bored Ape Yacht Club. CloneX avatars can be used in movies, games, social media. and other forms of content by the collector acquired.
CloneX's NFT project is a collaboration between RTFKT and Japanese artist Takashi Murakami. Murakami is known for using bright colors and striking styles in many famous art collections.
Thus, the CloneX avatar features a blend of Murakami-inspired features and incredibly realistic elements from RTFKT's technology and the Daz 3D platform.
As of this writing, CloneX has around-the-clock trading volume of 456,296,886 with a total of 7,008 buyers.
8. Meebits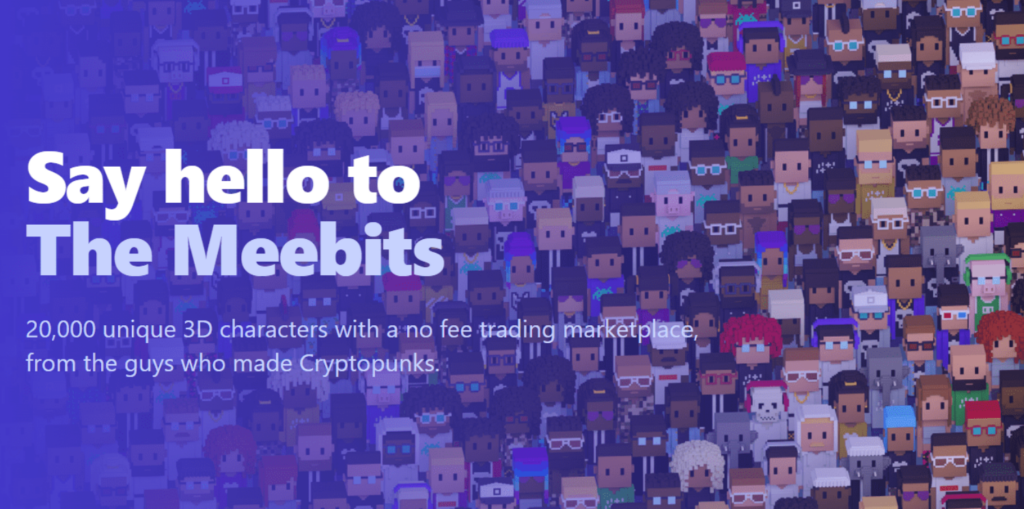 To follow the success of CryptoPunk, Larva Labs is introducing Meebits, an additional new NFT project. Meebits consists of 20,000 different 3D characters modeled after popular video game characters as seen in Roblox and Minecraft.
After its initial launch in May 2021, it sold up to 9,000 items for 22,500 ETH in just eight hours. Meetbits can also be used as avatars in metaverse, games, or virtual reality.
Meetits runs on the Ethereum blockchain with the ERC-721 token standard, enabling trading on crypto services and exchanges.
Meebits is ranked 8th in Cryptoslam with a total trading volume of 404,398,876 USD.
9. Azuki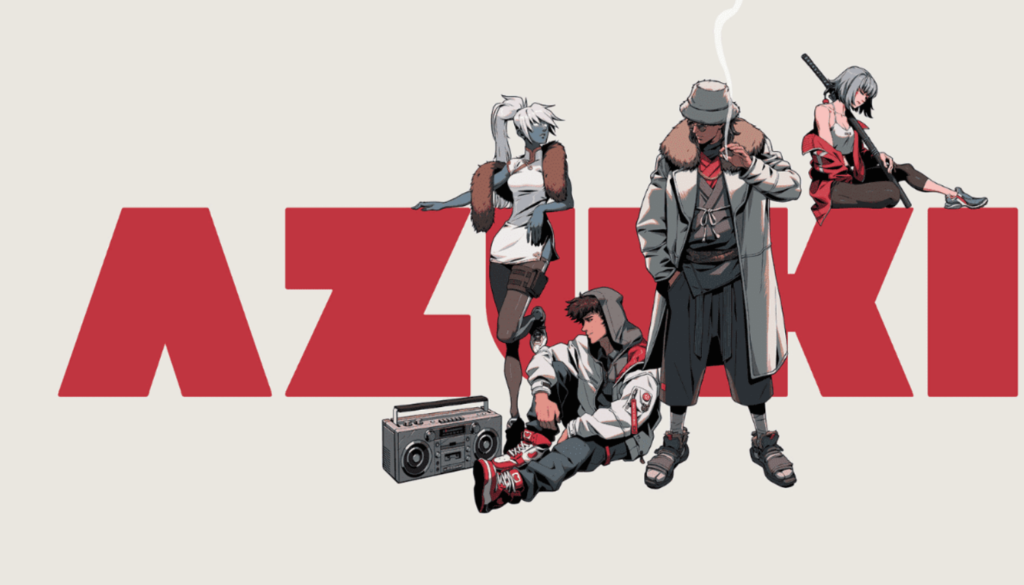 As the name suggests, this NFT project is inspired by Japanese anime. Yes, you're right. Azuki is the henchman of Chiru Labs, which consists of four anonymous youths.
Project Azuki just launched in early 2022, with a record 8,700 characters sold in just 3 minutes and grossed over $29 million.
Over the next 30 days, this NFT project was sold for nearly $300 million. It was placed at the top of the leaderboard for digital collectibles trading in January 2022, according to OpenSea.
At the time of writing Azuki was recorded to achieve (all time) trading volume of 374,334,143 USD.
10. The Sanbox

Sandbox is a play-to-earn NFT game that expands blockchain savvy new opportunities to monetize their time for money while having fun playing the game.
The NFT Sandbox project has the power to attract millions of players to the crypto sector and provide attractive investment opportunities. Today, Sandbox has expanded its markets in countries around the world.
Revealed by CryptoSlam, the sandbox has trading volume (all the time) 365,423,547 with 19,143 asset owners.