Since the upgrade of The Merge, trading on the Ethereum network has plummeted.
Blockchain analytics firm Santiment has said that the number of daily active addresses on the Ethereum network dropped to a four-month low on Oct. 20.
Santiment stated that October 17 was the first day that ETH had fewer than 400,000 active addresses since June 26.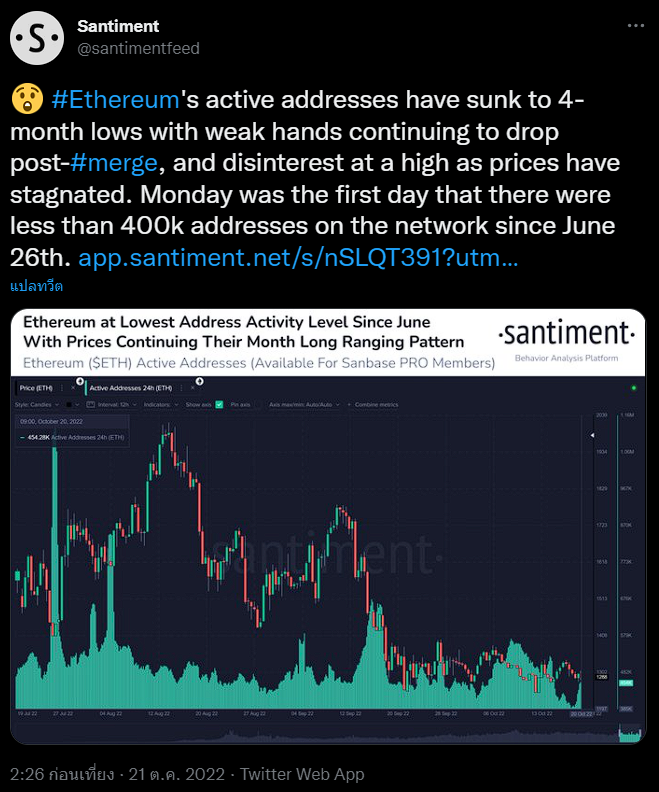 ETH use case more less.
Less real use case due to the continuous emergence of new blockchains. and there are cheaper fees.
If ETH is unable to adjust gas fees to be lower than other blockchain to new more create use case, and develop to have a higher potential this could be the end of ETH.
Investors are starting to ignore Ethereum.
Investors are becoming less interested in Ethereum, which has led to a lower ETH price, and the Mean Dollar Invested Age (MDIA) chart shows that the MDIA index is trending upwards. This indicates a declining interest in Ethereum, as opposed to the price of Ethereum that has not moved.
In the past 6 months, the MDIA Index has surged 41%, showing the decline in the popularity of Ethereum, and the declining popularity makes it difficult for the price of Ethereum to recover.
Join journey with us.
With Animalverse Dancing Underwater NFT.
Free mint at https://www.animalversedancingunderwater.io/